This post is by Hilary Kates-Varghese, UNH graduate student.
Takin' care of business!! We now have two landers deployed in their new homes for the next 8 months. A successful and productive cruise thus far. This can likely be attributed to the fantastic crew helping us at all hours of the day and the delicious food we've been fueling on. Last night we celebrated Thanksgiving on the boat and we ate like kings and queens!
On the menu were jumbo shrimp and cocktail sauce, mini crab cakes, veggie rolls, rich buttery oyster stew, Beef Wellington cooked to perfection, fluffy buttermilk biscuits, the most luscious smashed potatoes, unbeatable beets, green beans, bread pudding stuffing, cranberry sauce and of course Thanksgiving wouldn't be the same without The Bird and pumpkin pie! There was as much food as could be desired and then some.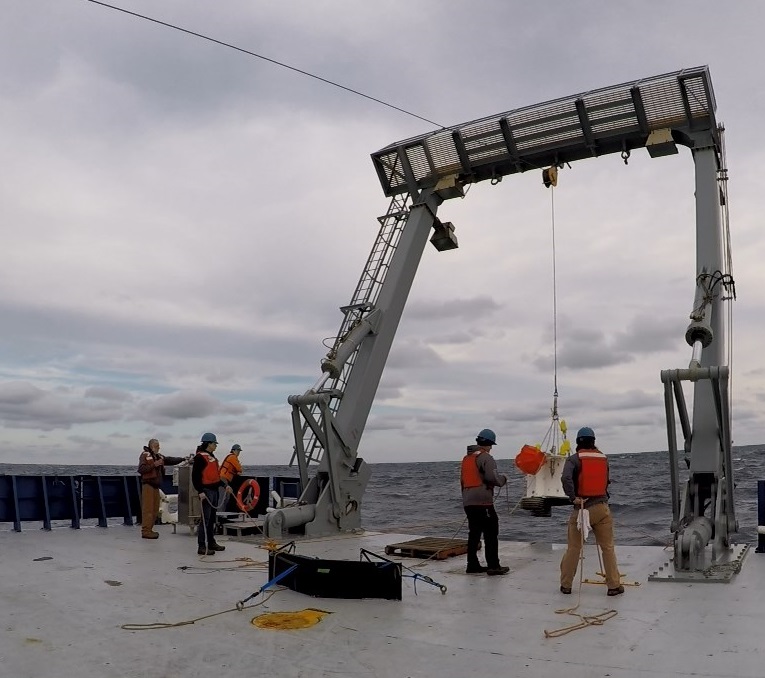 While on each site we've been diligently watching for marine mammals. So far we've seen tens of common dolphins passing by on their morning and evening commute. We've seen two species of sea turtles: a green and a leatherback passing by and a night time sighting of some pilot whales! And that just includes the big guys. Our nighttime crew has been finding all sorts of fish, eels, ostracods, you name it in their bongo net tows. So much that they had to use last night's transit from site 1 to site 2 to catch up on their backlogged IDs before they take a stab at site # 2 near Cape Hatteras.
As for the landers, the deployments have gone smoothly. Literally just a drop in the ocean and so far they've both landed with their feet on the bottom. The two we've deployed so far have both active and passive acoustic components, which should produce an interesting data set to examine and analyze later.
All in all, we are very thankful for the progress we've made and hoping to keep up the momentum for the rest of the cruise. Thanks for following what we are doing! And we hope you had a wonderful Thanksgiving too.