Written by Jennifer Miksis-Olds.
In about an hour, the R/V Neil Armstrong will pull into port in Woods Hole, MA. Almost 4 weeks ago, we left Woods Hole with a vessel laden down with equipment, an ambitious science agenda, and some anxiety about how we would all fare in inclement weather or rough seas. We return to the dock with a sense of victory; we accomplished more than expected in data collection, there were no injuries or illness (besides some seasickness), we participated in recovering an autonomous sailboat lost at sea, and we squeezed in a good amount of fun.
After being off the coast of Florida and wearing shorts just a week ago, it is jarring to return to port in a snow storm. One might think that the journey is over, but in truth, the journey is just beginning. For every hour of data and samples collected, there will be hours (if not weeks) devoted to data processing and analysis. Now the real fun begins!
In closing, I'd like to highlight the contribution and effort of the R/V Armstrong ship crew and SSSG techs for all their advice, patience, and support in helping us reach our science goals.  Calder Robinson, Stephen Milea, and Sebastian Velez also deserve a special thank you, as they joined the ADEON science party last minute and were invaluable in collecting data. Hilary Kates-Varghese and Calder Robinson have just completed their very first at-sea adventure! Chief Scientist Joe Warren gets a standing ovation!!!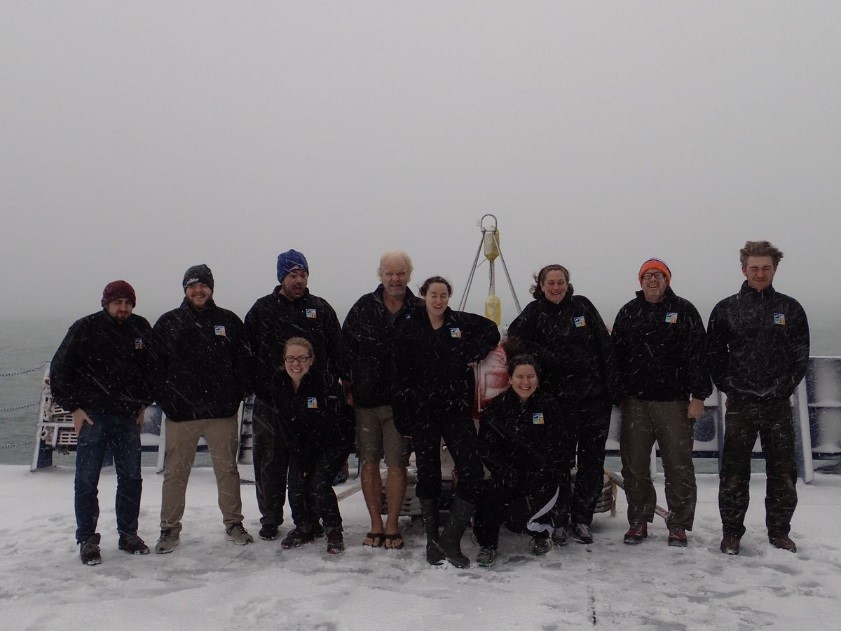 Joe Warren
Jen Miksis-Olds
Kevin Heaney
Carmen Lawrence
Calder Robinson
Sebastian Velez
Hannah Blair
Stephen Milea
Brandyn Lucca
Hilary Kates-Varghese